The Innovation Booster Technology & Special Needs aims to support projects that provide innovative solutions for people living with a disability.
In order to ensure that the innovations developed are adapted to the reality of people with disabilities, it is necessary that these people participate in the entire innovation process.
We therefore organise needs collecting workshops, in order to facilitate the identification and expression of the current needs of people with disabilities.
What are the things that cause problems in their daily lives? What are the main difficulties? What areas still lack accessibility? What are the priorities?
These workshops bring together a group of people living with a similar disability and speaking the same language.
In the first half of 2022, 6 workshops were organised:
3 workshops took place in collaboration with La Castalie in Monthey, Clair Bois in Geneva and Atelier Manus in Brig Glis, on the topics of mental disability,

3 workshops were held in collaboration with the Swiss Federation of the Blind and Visually Impaired: FSA in Lausanne, SBV in Bern and Unitas in Lugano, on the topics of visual disability.
Visual Disability
During these last workshops, people living with a visual disability discussed three main areas (proposed by the BFEH): digital accessibility, equality at work and independent living.
For each of these topics, the group discussed the difficulties encountered, the main problems, but also the existing possibilities of assistance, effective or not. Some key needs were identified, sometimes even the beginnings of solutions to meet these needs.
The workshops were attended by a total of 28 people, including people living with a visual impairment, relatives, as well as officials from the FSA/SBV and Unitas.
The workshops were facilitated by the Innovation Booster Tech & Special Needs team and included several different periods of reflection, discussion and exchange on the three themes mentioned above.
A written document gathers the main difficulties encountered, the main needs, as well as general remarks identified by the participants of the three workshops. This document is available in French, German and Italian on request. If you wish to consult it, please write to info@frh-fondation.ch.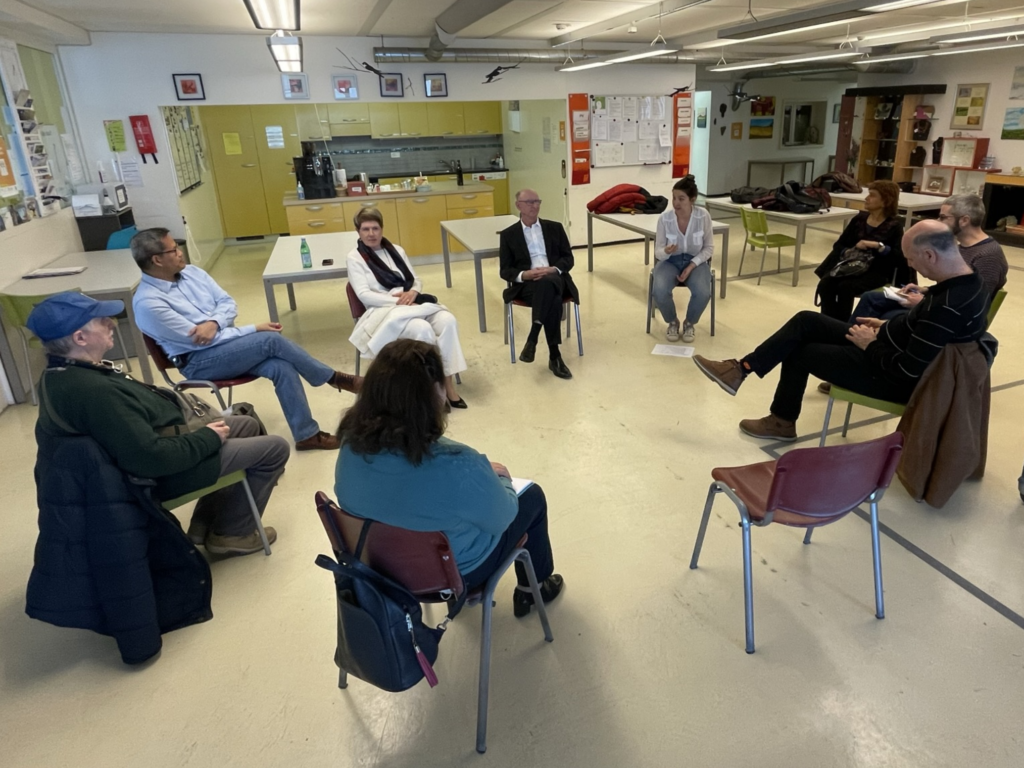 Examples of topics covered
Home
Household appliances are becoming more and more tactile. They have fewer and fewer physical buttons, such as on hotplates for example, where touch screens replace the knobs for selecting the temperature. These appliances are impossible to use for a blind person.
Mobility
Pedestrian crossing signals are not always clear and are not uniform throughout Switzerland. 
There are several aspects that can cause problems:
The volume of the bell to indicate pedestrians to cross is too low.
The vibration to indicate pedestrians to cross does not work.
The bell has a different purpose, e.g. to signal bicycles to cross.
Communication
When we write text with our smartphones, whether it is private messages or posts on social networks, we use emojis a lot.
A blind person uses a text-to-speech device to navigate their smartphone. When the text-to-speech device passes over an emoji, it reads its title. This makes it very difficult to read text that is illustrated or punctuated by these little drawings.
Example: Hi 👋 I look forward to seeing you later 🤩✨. Where shall we meet 🤔 in front of the 🏪 or near the station 🚂?
This is what the text to speech system reads: " Hello waving hand I'm looking forward to seeing you later face with stars instead of eyes twinkling stars. Where do we meet face deep in thought? In front of the supermarket or near the station locomotive?
Next step: idea generation
Based on what has emerged from these first meetings, several ideation workshops will be organised during autumn 2022. This second phase of ideation will be an opportunity to bring together people concerned by disability and people from the academic and technical world, in order to create teams that can propose concrete solutions to meet the needs identified. Anyone interested in participating is welcome to do so.
A first workshop will take place on 13 September at FabLab Luzern, on the theme of visual impairment. 
More information on the ideation workshops can be found here.