NTN Innovation Booster – Technology & Special Needs
People with disabilities need to develop their autonomy, whether it is related to physical mobility or mobility in public space, or whether it is related to decision-making and the ability to become independent, in order to overcome structural and infrastructural barriers and to be able to integrate the different spheres of society – public, professional – as well as to participate actively in these different spheres.
Innovations in the fields of communication, mobility and care will enable Switzerland to be more inclusive and to catch up with the implementation of the Convention on the Rights of Persons with Disabilities (CRPD).
In collaboration with the HES-SO Valais-Wallis and the HE-Arc, the FRH has obtained an Innosuisse funding of around 2 million Swiss francs for the years 2021 to 2024. The purpose of this funding is to support and promote ideas and projects related to disability in the broadest sense. Managed by a steering committee, this nationwide structure can count on the support of the scientific committee, the experts committee and the FRH executive office as well as more than 30 Swiss partners. If you are interested in contributing to this project, do not hesitate to contact a member of our steering committee.
Julien Torrent, FRH President
Benjamin Nanchen, Living Lab Handicap Manager
Noémie Moulin, Project coordinator
Tel: +41(0)77 502 52 03
245'000 frs attributed each year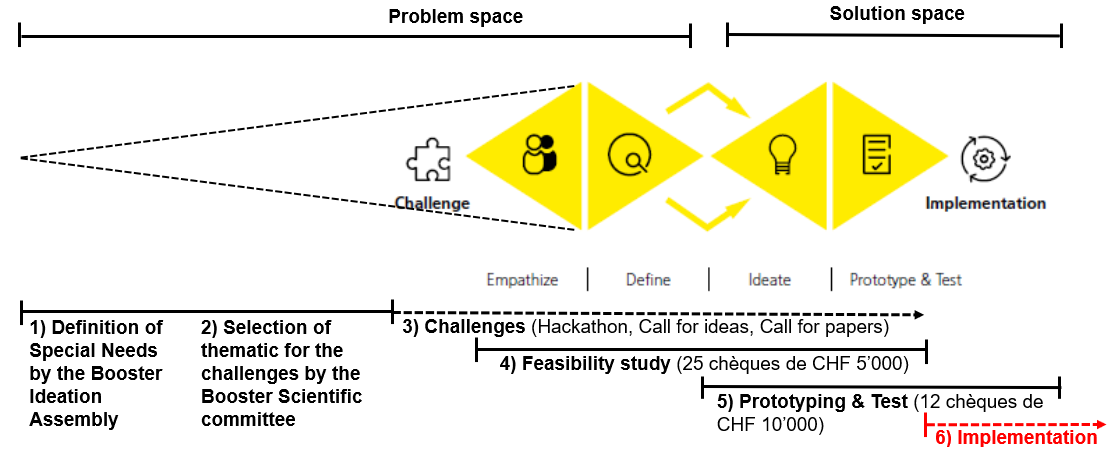 Each year the Innovation Booster Technology & Special Needs distributes 245'000 frs, as seed money to help new projects get off the ground:
The scientific committee sets the goals and themes for the current year.
An ideation phase allows to gather a maximum of ideas and needs from the field, via several events of national scale.
Calls for scientific research, feasibility studies and prototypes are organised in order to imagine concrete solutions to the problems collected.
25 cheques of 5'000 frs for feasibility studies are allocated by the scientific commission and the experts committee.
12 cheques of 10'000 frs for tests and prototypes are awarded by the scientific commission and the experts committee
Various other types of funding can then be used to implement the projects (Innosuisse innovation cheque, Innosuisse project, Living Lab Handicap, etc.).
Innovation at the crossroads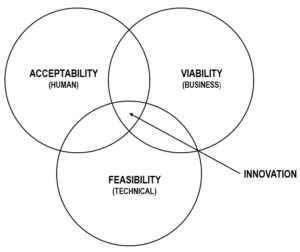 User-centred design is based on the premise that innovation lies at the intersection of acceptability, feasibility and sustainability. The dimension related to acceptability is dealt with from an anthropotechnological approach, through the study of practices, systems of representation and appropriation dynamics at play in specific contexts. Viability is assessed from the perspective of contingent valuation methods, which are economic techniques for valuing the immaterial. Finally, feasibility is assessed with the help of pre-experiments and quasi-experiments necessary for the validation of techniques before they enter the market.
Organisations of and for people concerned
Institutions and social actions